Driptrays
Drip trays can be supplied with the towers. All models: with or without drain, top or flush mounted, water spray rinser. Materials: AISI 304 SSteel, tarnish free PVD gold, real solid copper and brass. Width from 5" - 8". Any custom size available. Our user friendly products have no sharp edges on driptrays. All edges are carefully deburred. Examples of custom made driptrays:

Drain tray SSteel brushed. 26" x 5" x 3/4" 1 finger hole, 1/4 inch holes.

Flush mount drain tray, insert 30" long, 5" wide, 3/4" flange width, with a drain in the middle. SSteel brushed, dark copper PVD tarnish free finish.
Drain tray, 46" x 7" x 1" with two 23" grids, drain in the middle. Real copper grid, SSteel pan with drain.

8" wide. Surface Mount Drain Trays come with or without drain nipple. 9"L x 8"D x 3/4"H 12"L x 8"D x 3/4"H 16"L x 8"D x 3/4"H 24L" x 8"D x 3/4"H etc.a
Drip trays came in many sizes and shapes.

Standard 5" driptray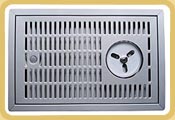 Custom flush mount with rinser 20"W x 12"D