Ceramic Draft Beer Towers
We use INDUSTRIAL STRENGTH PORCELAIN instead of brittle ceramics, for maximum strength and resistance to chipping. Porcelain has three times the strength of standard ceramics everybody else uses. It's costlier, because of technical requirements, but it allows us to put unprecedented 12 faucets on the biggest 40" body anywhere. It's size dwarfs anything else on the market. Porcelain may be decorated with a company logo decal. Rings and bodies are made of real polished brass, polished or brushed AISI 304 stainless steel or polished stainless steel and plated with tarnish free PVD gold color.
Porcelain models from the left: Venus, Helios, Mercury.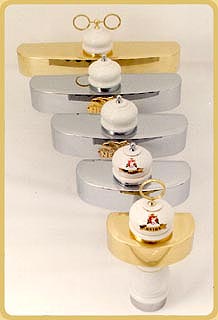 Ellipse Tee towers; 6 different seizes from 12-3/4"W. to 40"W.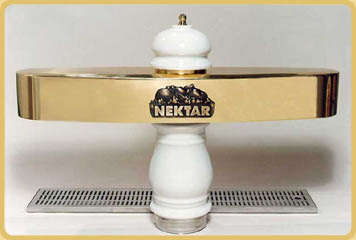 Giant Jupiter 40" 12 faucets porcelain beer tower. Polished brass body with massive cast and patinated brass company logo.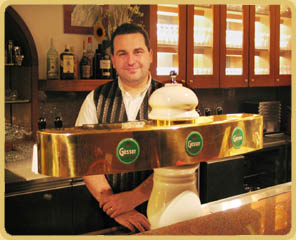 Satisfied German customer with our biggest Jupiter 12 faucets tower.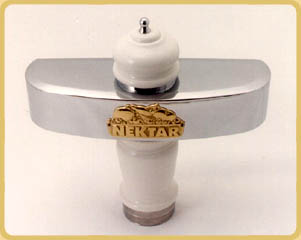 Beautiful and very practical shape was inspired by water vortexes.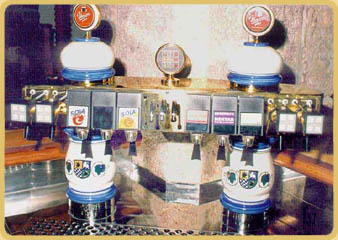 Custom order with two porcelain hand painted bodies. It has 4 beer, 6 postmix heads and 3 wines in the middle.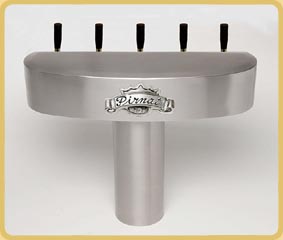 Metal body can be used without porcelain, using metal leg for support. Sizes are the same as with the porcelain bodies.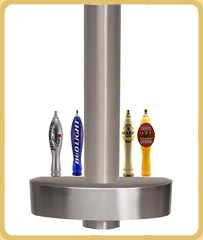 This variant is hanging down from an overhead soffit.